Introduction to Business Design
Welcome to Business Design! This article is a great starting point for everyone who is interested in Business Design as an agile innovation management approach. Whether you are a prospective team coach, a project sponsor or team member, you will learn what Business Design is and when it helps you reach your innovation ambitions.

Bernhard Doll
Business Design Maverick
1. Key Elements
Business Design is an agile innovation management approach that works best when you are confronted with many uncertainties while building something new. Irrespective of whether you are about to develop a new business model, product, service or software application, the Business Design approach guides you through a structured but flexible innovation journey and helps you find your next big opportunity beyond the resources you currently control. We usually implement Business Design as an essential ingredient of a modern innovation management system. Have a look at this illustration to understand what this may include.
The Business Design approach consists of five key elements, which support you to become a successful innovator. All elements will be described in this knowledge base: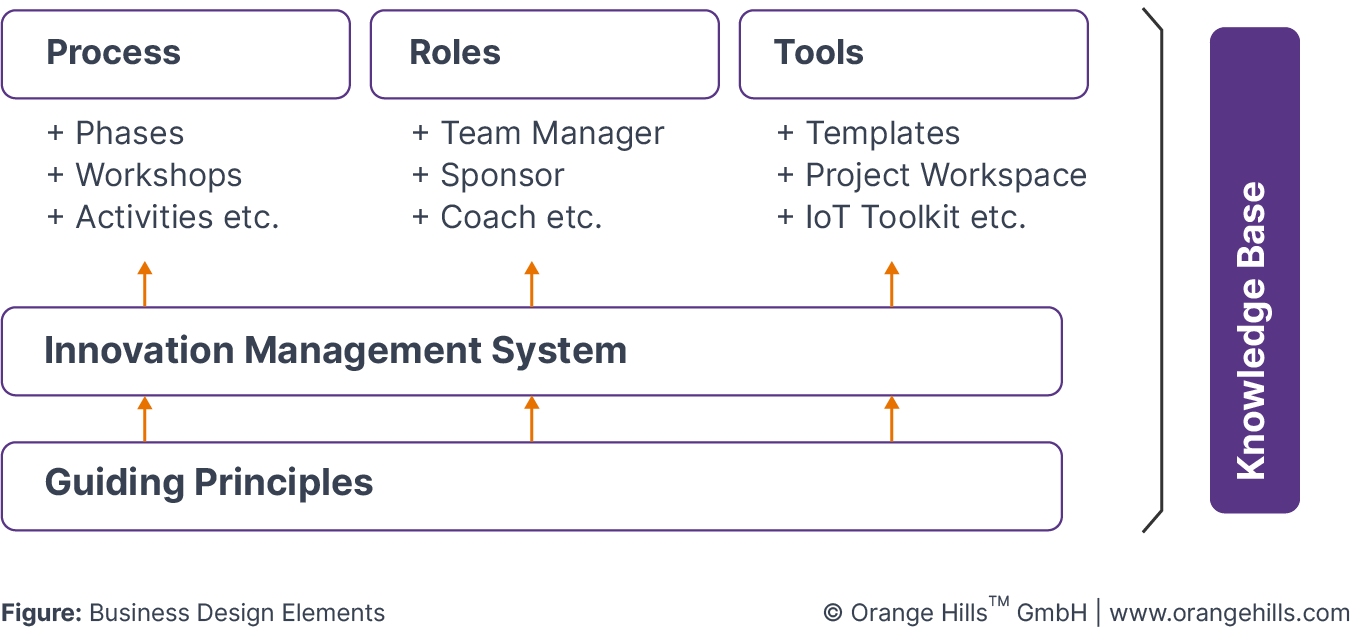 2. Integrated Perspectives
Business Design is an holistic innovation management approach that strives to include a variety perspectives right from the start. This is not new and a feature of many innovation management approaches. However, what happens in reality is that different perspectives are covered in a sequential order and by a variety of experts working in a traditional "division of labour mode" even across different organisational units. In Business Design, all five aspects are truly covered in parallel by one high-performance project team from day 1:
Strategic and organisational fit: Business Design aims to create innovation that fits well to the strategic vision and envisioned capabilities of a company

Desirability: Business Design aims to create innovation that fits well to the today's or future world of customers and users

Viability: Business Design aims to create innovation that helps achieve economic targets

Feasibility: Business Design aims to create innovation that can be engineered and produced under certain economic conditions

Sustainability: Business Design aims to create innovation that doesn't harm the society or life of future generations (by the way, this is not just "blah blah" but an aspect we take very serious)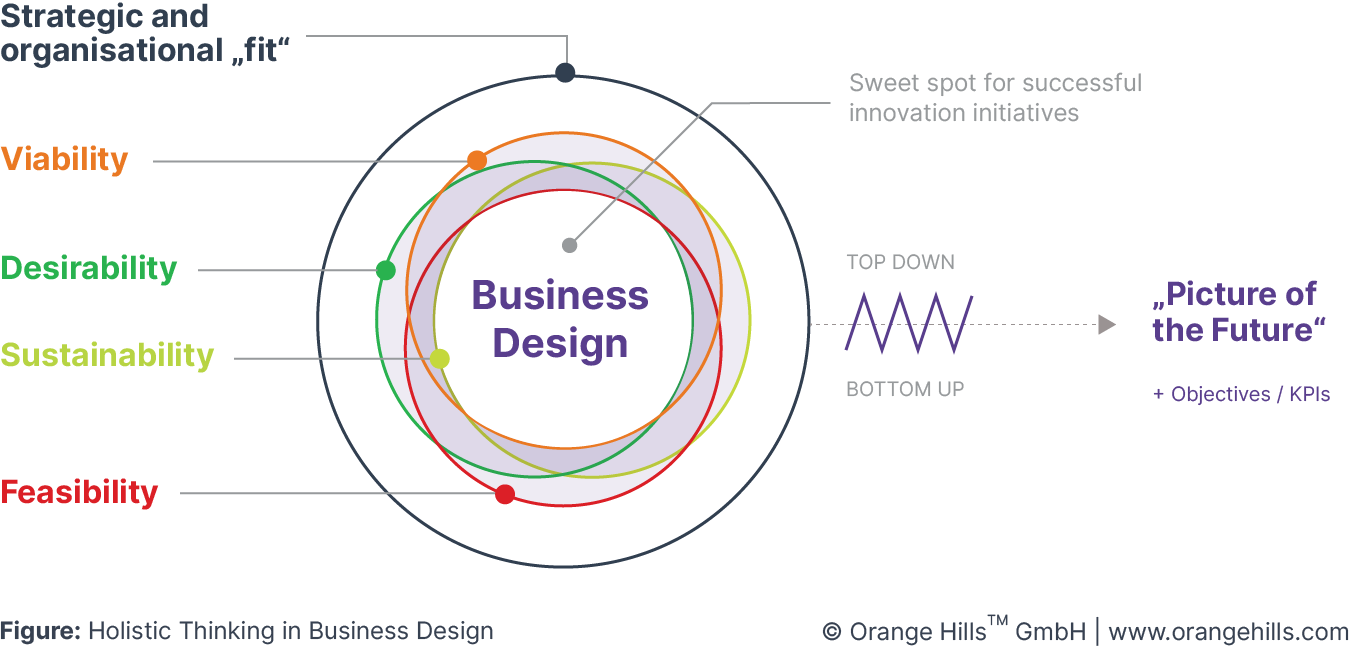 The nature of Business Design is also highly multidimensional and interdisciplinary. Business Design can only produce results and fulfil its promises, if we include various dimensions such as
Dimension 1: Vision and strategy

Dimension 2: Business model

Dimension 3: Products, services (= offerings)

Dimension 4: Implementation
Without a clear vision and strategy, for instance, it will be almost impossible to select ideas and get clear and brave decisions from the management around new ideas. Without a sound business model, generating value with new products and services for both customers and the company is, let's say, a challenge. And finally, if there is no close link between concept and implementation, we get stuck in theory without tangible results. In addition, to handle all those tasks, we need to tackle our innovation challenge from multiple perspectives including at least
Business

Technology

Psychology

Design
...and in some projects even more. If a project team misses one of these perspective, the likelihood is high, that we don't build "something" that is desired by customers, feasible, viable and fits to the strategy of the company.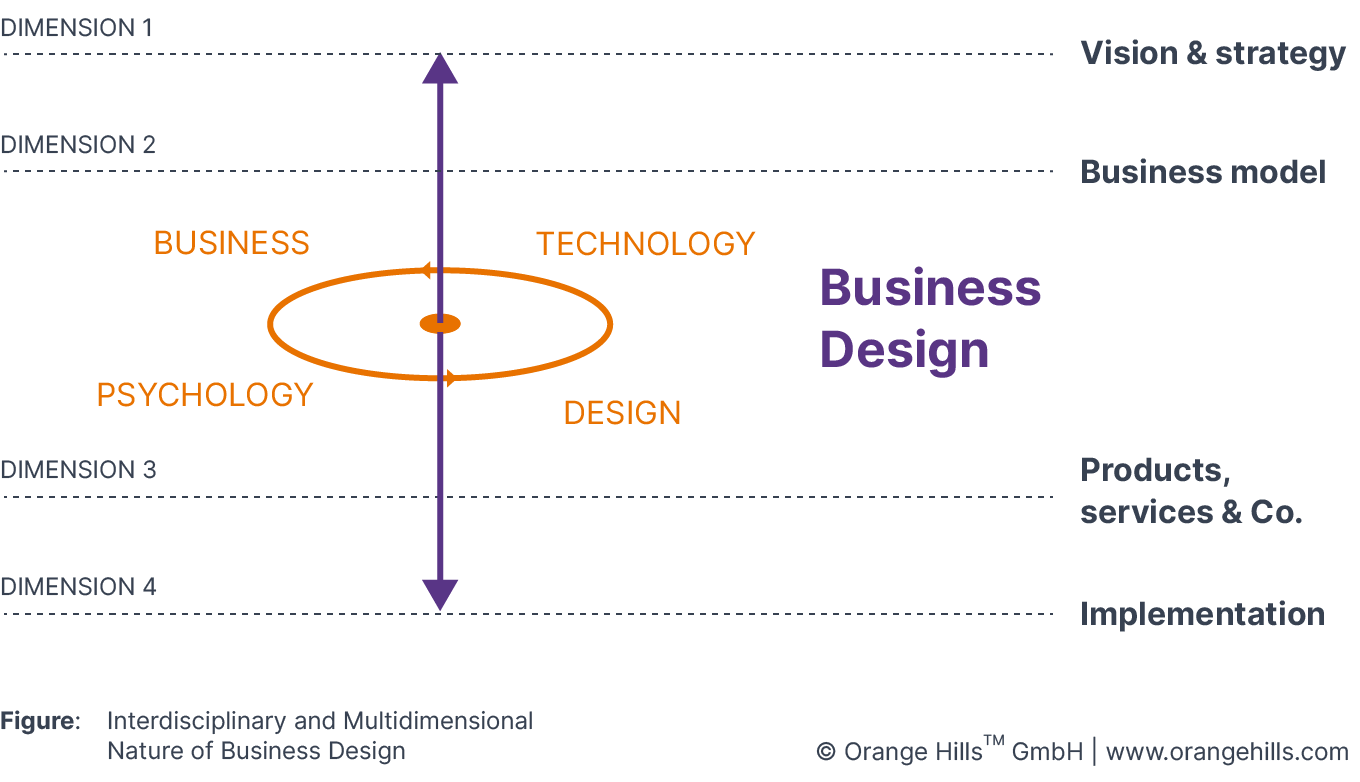 3. Sweet Spot of Business Design
Business Design is the right choice if you are searching for new business opportunities rather than finding incremental improvements ("extensions to the core") of a today's business or the next visionary game changer for your industry.
We define the three horizons as follows:
Extension to the core: Revision or extension of an existing product, service, software  or business model for the same target group. Can be new features of products or services (for current customers) or process improvements ranging from strengthening the brand perception, sales support or even efficiency gains.
New business opportunity: New product, service, software or business model with no logic predecessor within an organisation, serving today's and /or new customers from the same position in the value chain. Here, we usually deal with significant uncertainties at the edge of the comfort zone, which is why the Business Design Process can play to its strengths.

Visionary game changer: New product, service, software or business model with no logic predecessor within the organisation, serving new customers from a different position in the value chain. Ideas here have the potential to disrupt today's businesses or create totally new markets. Complexity, ambiguity and uncertainties are our key enemies but the upside potential is just huge.
Considering these horizons, it becomes obvious that successful innovation is not bound to the domain of inventing new products, services with many new features. If innovation is about finding new ways to grow a business, this growth can happen in various areas of a business model. Be open and don't let your engineers rule the innovation game (alone).
4. Agile Approach
Business Design is based on the idea of an agile learning process to create innovation. What does that mean? We don't believe that successful innovation (which is defined as something "new" determined to generate "growth", see three horizons) can be build in a traditional business development approach in which project teams go through a linear process of learning (= market research through customer surveys), planning (= business case modelling , decision-making (= management decision to allocate budget), building (e.g. burning the budget until it is gone) and finally launch the innovation on the market.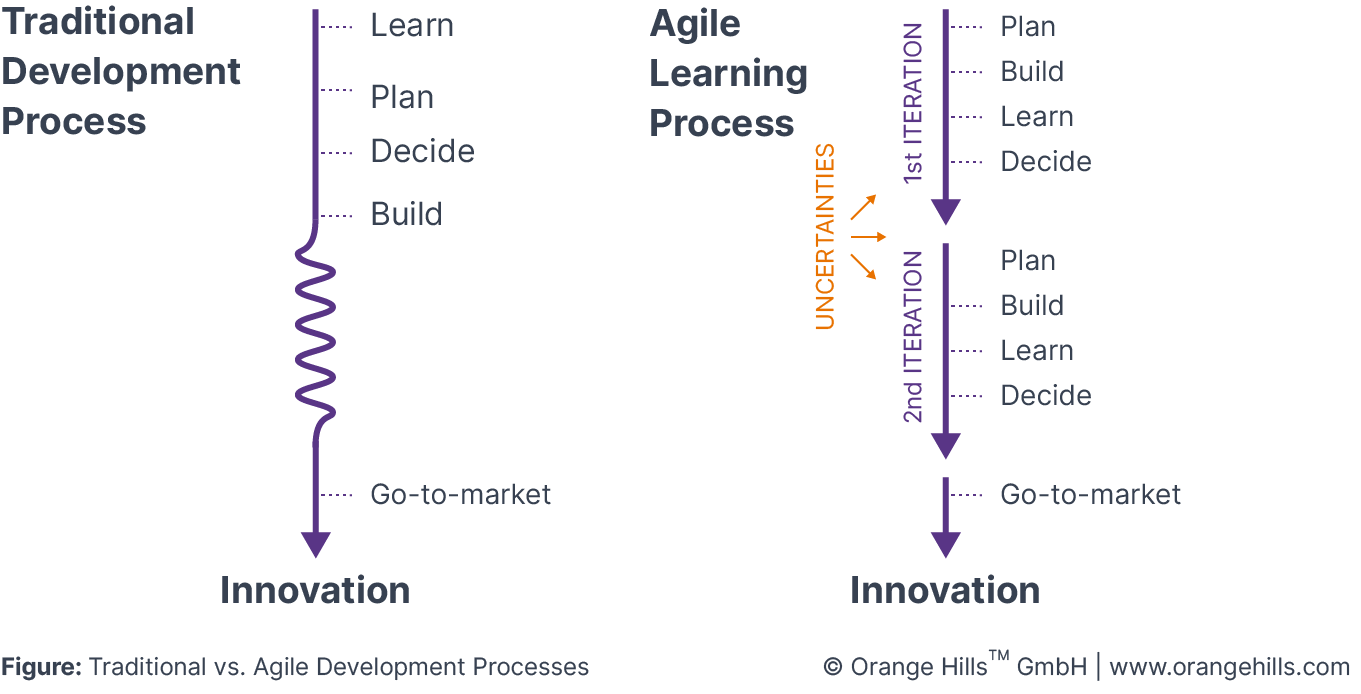 The likelihood is very little, however, that both the project team and the management were able to anticipate the future and hit the bull's eyes with their decisions. The world is fast, customer's behaviour diverse and uncertainties high (by the way, "uncertainties" are not "risks", since risks are controllable and somewhat predictable). This is why Business Design puts the traditional development process upside down and turns it into an agile development and learning process. Through short iterations, a project team enabled and facilitated by an experienced coach quickly makes progress with tangible results and reduces uncertainties through systematic learning. The management (= project sponsor) is invited to make decisions not only once but many times throughout the journey to literally steer an innovation project to the market - step by step.
In every project or training, we spend considerable time in introducing Business Design to the participants. Here is the storyline we often use in such situations. And also the comparison of Business Design to other popular approaches in the innovation management arena, such as Design Thinking or Lean Startup, could be helpful. Read more about our Business Design guiding principles here. And there are even more success factors that we need to get right in order to succeed with Business Design. By the way, the often quoted statement "Fail often, fail early" is NOT what we practice. In Business Design, we are eager to learn and we strive to succeed. Failures may happen but are never our intention!
A good starting point for Business Design is our Business Design Starter Kit and Business Design Box that comes with a short guide, the key templates, pens and post-its to start off right away.
Ries, E.: Lean Startup, Currency (Amazon)