The Process for Business Design
We get more and more operational now. This chapter of the Knowledge Base is about phases and activities within the agile innovation process of Business Design. Learn about key activities, duration, participants, workshop designs and tools for each phase and dig deeper into important skills such as discovering customers, business modelling and (social) prototyping.

Bernhard Doll
Business Design Maverick
The Business Design process is the core of the Business Design approach. It is the embodiment of entrepreneurial thinking hunting for business opportunities. The process can best be described as an "agile" development and learning process for building new business models, products, services or software applications in one to many succeeding iterations of 10 weeks.

Each phase of the process gives all stakeholders involved a clear structure and guidance, which is specifically important when everything else is risky and uncertain. In each iteration, we design or improve a future scenario as a new business model, product, service or software (= Design), based on a short discovery phase (= Discover) and validate the scenarios with scientifically designed experiments to learn which aspects of the scenarios work and which don't (= Validate). Based on these learnings, a project sponsor is empowered to make clear decisions on how to proceed in the project (= Decide). In a nutshell, three decisions are possible:
| | |
| --- | --- |
| STOP | Facts tell us that we should better stop wasting our time and money because our idea will never work. |
| ITERATE | We gained insights how to improve our ideas and the way we work together as a team. We start a next iteration. |
| GO | Wow. The results from the previous iteration indicate that our ideas are ready to be launched on the market. Go! |
To kick off a project based on the Business Design process, a Project Charter (= Setup) is required to define some basic elements of the project such as motivation, objectives, schedule and stakeholders. The output of a Business Design process is a management proposal consisting of the results of each phase (e.g. business model, hypotheses and results of experiments, prototype), suggestions for the sponsor and the decisions made by the sponsor.
The overarching goal of every Business Design project is to find simple answers to the sponsor's motivation and objectives for the project. This, however, is rarely an easy task and usually leads to a journey with ups and downs as illustrated below. Be prepared for this!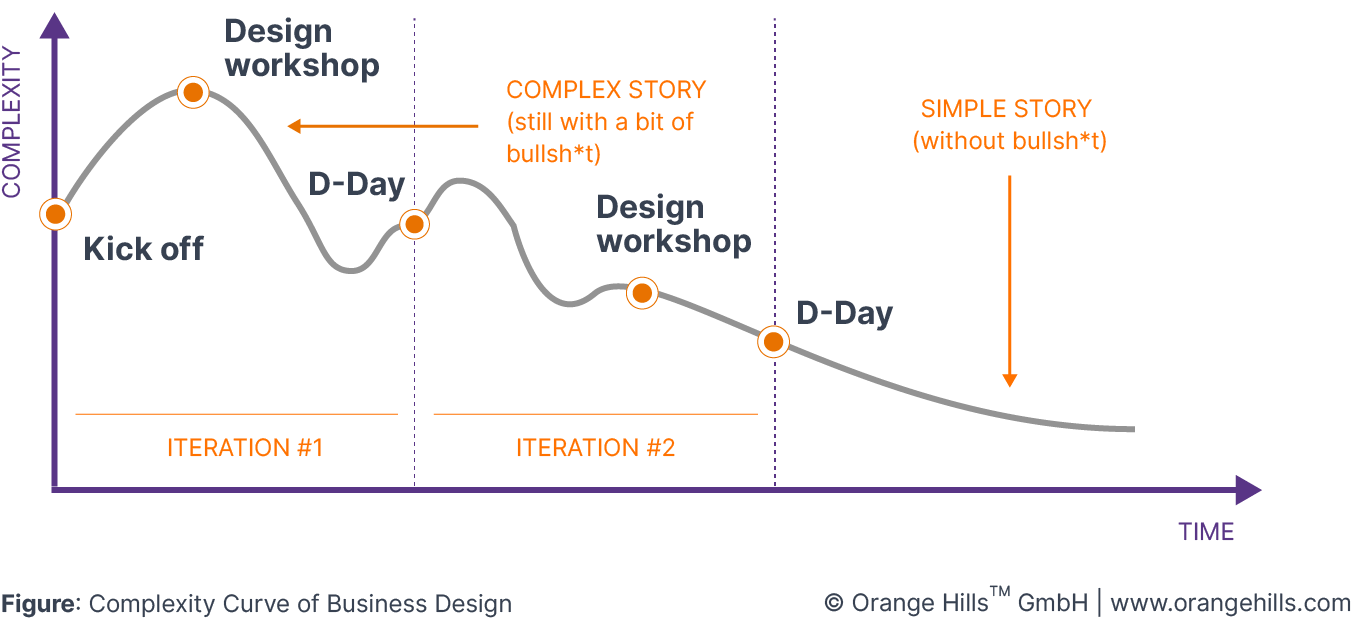 These phases enable us to develop, learn and make clear decisions:
These five phases constitute an "iteration" of a Business Design project, which encompass 1 to X iteration(s)
If you want to learn more about our "agile" development and learning process for building new business models, join our Certificate Program (DE) and become a certified Business Design Expert.