Action Plan
The Action Plan template helps you to organise the execution of your Experiments as well as your activities to build your Business Model / Lean Offering in your team. Familiarise yourself with the tool and download it for your team.
1. Overview
Ideas are worth nothing, unless they are executed. This statement may sound trivial, but execution is still one of the biggest hurdles for many corporations, preventing them from becoming successful innovators. The Action Plan template is a very simple but effective way to organise your execution in order to implement your business model / lean offerings and run your experiments in short cycles. Adapt the number of weeks per cycle to match what is appropriate for your industry. Make sure you create something tangible after each cycle.
We encourage you to start implementing your ideas quite quickly. In some cases, we focus entirely on running experiments and building "social prototypes" in the first instance. Sometimes we jump right into the implementation of the lean offerings without any pre-launch tests. This depends on the complexity of the business model and the investment needed to realise it.
Do not forget to reflect on what you have achieved after each cycle. We usually spend half a day figuring out whether and how to improve both your business model and market offerings - step by step. It is rarely the case that designing new business feels like a homerun. You may perceive it as a marathon and the Business Design structure helps you focus your energy on the most important tasks in order to succeed.
2. Layout & Download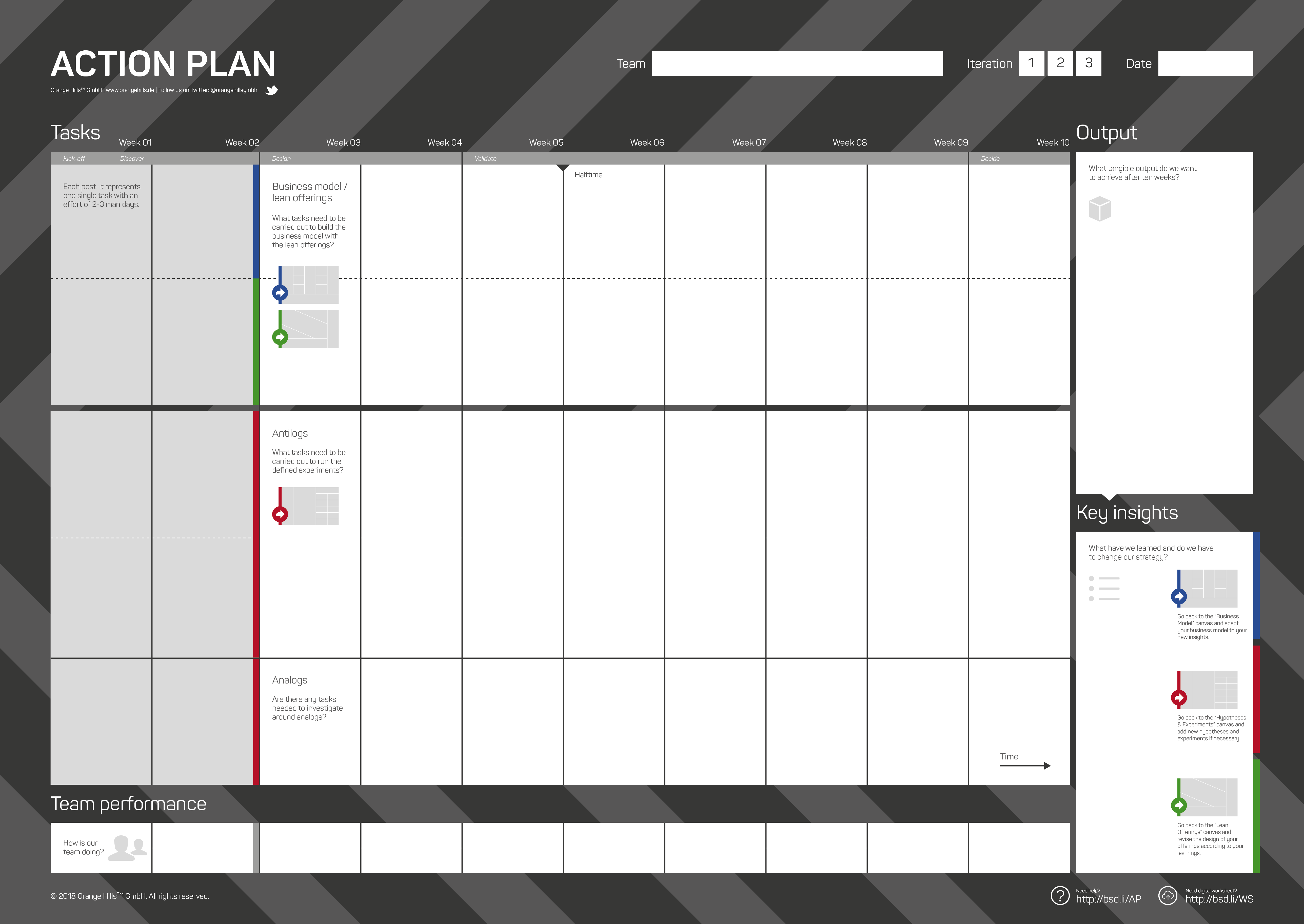 3. Key Elements
Element

Question

Comments

Tasks

Which tasks need to be carried out...

to build the business model with the lean offerings?

to run the defined experiments?

Are there any tasks needed to investigate around analogs?

Be precise in what to write on the post-its but don't be too granular.

Use the different rows to differentiate which part of the process the task belongs to.

Output

What tangible output do we want to achieve after 10 weeks?

In the very beginning you will not be able to clearly define what the tangible outcome could be after 10 weeks. Make assumptions but update frequently and be realistic.

Team performance

How is our team doing?

Reflect with the project team every week how the team members are doing. Speak openly about your observations on how the teams performs and what can be improved. Intervene and escalate with the sponsor if necessary!

Key insights

What have we learned and do we have to change our strategy? If yes, go back to the

Business Model template and adapt the business model to the new insights

Hypotheses & Experiments template and add new hypotheses and experiments if necessary

Lean Offerings template and revise the design of your offerings according to you learnings

Based on new insights during the sprint the once set up business model might have to be adjusted. Do not forget to then update the Hypotheses & Experiments and the Lean Offerings templates.
4. Usage Scenarios
Defining, delegating and tracking tasks that a project teams needs get done within an iteration

Visualizing dependencies between tasks
5. Instructions for Coaches
At the beginning of an iteration, fill in already the D-Day and other workshops. This helps focus and anticipate what's coming.

Tasks need to be defined precisely and in simple words. Don't describe them on a too granular level. A rule of thumb: Tasks, which need not more than 2-3 work days to accomplish.

Use color coding of the post-its or use initials to differentiate between team members when delegating tasks.

Name the exact dates or calendar weeks on the Action Plan.

In some cases it helps to use a digital Action Plan projected on the wall during a workshop filling in tasks together with the team.

Emphasize the importance of an always updated Action Plan. Especially, if teams work remotely. Teams often tend to not update the Action Plan, which can be a source of mistakes and misunderstanding.
5. Q & A
What if I have lost overview in my Action Plan? Your tasks might be too granular. Zoom out one level and combine granular actions under one broader task.

In the last phase before the D-Day Workshop a task is called "prepare posters". Is that the right level of granularity? In this phase, it makes sense to be more granular than before because the steps to go are smaller and might be more interdependent with actions of other team members.