Validate Workshop
In case you schedule a Validate Workshop you learn in this article how it looks like and how you can prepare for it - as a member of the project team and as a coach.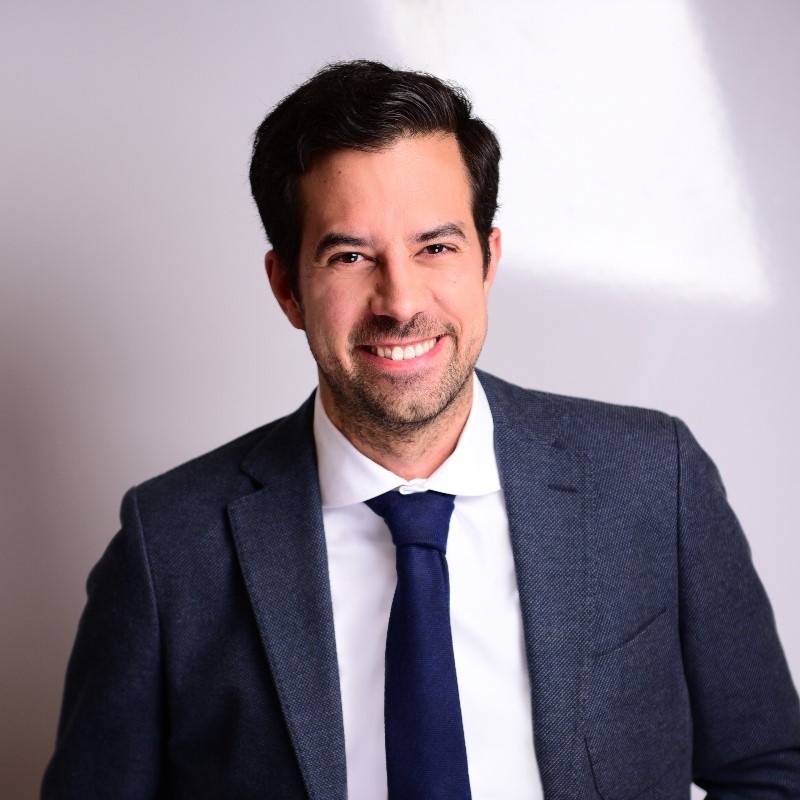 Karl Rabes
Business Design Coach
1. Purpose
The Validate Workshop is an optional extension to the Design Workshop. We sometimes split the Design Workshop in two workshops: In the first workshop we create a new business model, a new product, service or software (see first part of the Design Workshop). In the second workshop - the Validate Workshop - we prepare our core activities in the Validate Phase: Exploring Open Questions, Validating Hypotheses and Building Lean Offerings.
2. Duration
1 full day + preparation and documentation
3. Participants
4. Preparation
As a Project Team Member
You will start this workshop by reflecting the results and deliverables of the earlier Design Workshop, before introducing the detailed approach for the upcoming Validate Phase. This workshop marks another transition point for you as a member of the project team. Guided by your Business Design Coach you will change from a designers perspective into the perspective of a critical scientist, that now after a design has been made, defines hypotheses, experiments and research questions that help the project team to gain certainty about the maturity of the initial Business Model. You will also prepare yourself for the upcoming five weeks Validate Phase using Prototypes, Building Lean Offerings and conducting explorative research to collect data that drives your teams final recommendation to the sponsor in the Decide Phase.
Access the documentation of the design workshop and review your teams results incl. the first iteration of your Business Model

Challenge and reflect your first iteration Business Model. Take notes of questions that come up or write down assumptions you realise have been taken.

Start to think about similarities to other Business Models you know (inside or outside your industry) and write down which analogies you can think of

Start to think about (for yourself) how you could validate if certain elements of your Business Model will work and which elements the most critical ones would be

Familiarize yourself with the methods of Exploration and Validation

Free up your calendar for the day and make sure you can attend the workshop with 100% attention

Arrange travel and accommodation in cases needed
As a Business Design Coach
Not in all but in many cases a separate Validate Workshop is required during a Business Design Sprint. In case you already identify numerous (contradicting) insights during your Discover Phase and these suggest the necessity for complex prototypes or lean offerings for which your require prototyping experts or field research experts to participate - take action and start planning the Validate Workshop right away. It takes time to invite and onboard external experts. The Validate Workshop itself is usually scheduled for one full day, but as mentioned above, its thorough preparation and the upcoming tracking of each team members progress necessitates multiple days of investment from your side.
The benefits of a separate Validate Workshop in most cases make scheduling this additional one-day workshop worth it for you as a coach and especially for the team. Besides giving the project team more time to complete a first iteration of the business model and reflect about obvious shortcomings of such an initial version, you as a coach will also have more time and focus to manage the transition from a team of designers into a team of critical validation experts. Killing (or challenging) your darlings is never easy and hardly happens as part of design discussions. One night (or a few) in between will help that transition.
Results from Design Workshop are documented, visualised and printed so that it can be used for the Validate Workshop

Invite required experts for prototyping and field research to join

Coordinate with the Team Manager that all team members are invited, travels and accommodations are arranged

Define and align the agenda with the Team Manager

Book and organise room & catering

Prepare and print all tools & materials
5. Signs of Success
We consider the Validate Workshop as a success...
...if we defined experiments to reduce uncertainties in a way that we trust the results

...if the project team is fully committed to work on the tasks assigned to them and see a reason why this is important

...if the sponsor can't await to see the first results from our experiments
6. Tools & Materials
7. Documentation
8. Room & Infrastructure
1x Empty wall: > 420 x 200cm 

1x Empty wall: > 220 x 90 cm

Chairs or cube seats

1x Low-distance projector for Project Workspace

1x Table for catering

Hot & cold drinks, snacks or finger food
Optional:
Example Layout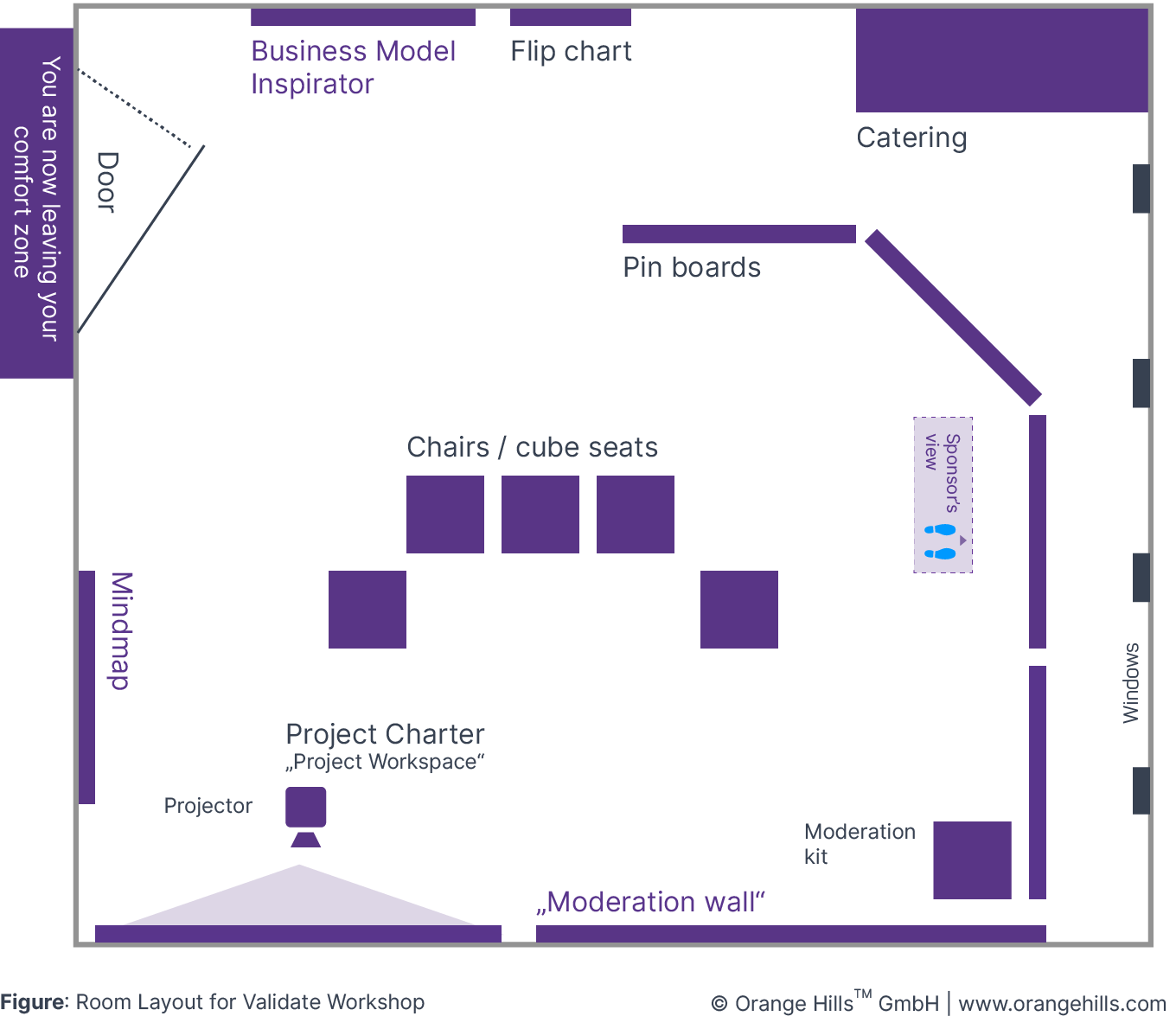 9. Q & A
We have a rough picture of our experiments now. When does the detailed planning happen? It depends on the tasks and responsibilities you assigned in your team. If you need another workshop with the whole team to plan and prepare experiments, consider a GTD-Workshop to speed up. Other experiments may be planned and prepared by only one team member.

We are not sure if our planned experiments are the right ones to explore our open questions / validate our hypotheses. But we have no idea what else we could do. Go through our list of Research Tools for inspiration and have a look at our examples about Exploring Open Questions and Validating Hypotheses. If you wish more individual support, a field research expert who is highly experienced in qualitative and quantitative research methods provides you fresh ideas how to design experiments. Just contact us!
10. Example Agenda
In some cases the Design Workshop has to take place in a virtual work environment, which influences the agenda. Check out our Miro Board to facilitate the Design Workshop online.
* P = Presentation | D = Discussion | B = Break | T = Teamwork