Setup Phase

1. Purpose
Many innovation projects fail to establish the right foundation before getting started. Therefore, it is crucial for any Business Design project to ensure that key stakeholders support the project at the outset, the project focus is clear and aligned with the company's interest and that the right team with sufficient time capacities and resources is formed. After the Setup Phase, the internal Sponsor and the Team Manager fill out and sign the Project Charter. The Project Charter represents the agreement between the project team and the internal sponsor in the Setup Phase. Together, they define the focus of the project and pinpoint the upcoming iteration including
Motivation

Objectives

Customer's problem statement

Optional: Draft solution with key assumptions

Schedule with milestones and dates for workshops

Required resources

Stakeholders with predefined time commitments
Discuss with the sponsor and team manager how Business Design really works. Especially, early interactions with potential customers, prototyping and fast decision-making based on facts (not hierarchy) is weird and scary for some companies, even if "customer centricity" is part of their vision statement.
2. Classification
Part of the motivational statement should be a clear classification, what type of outcome is / can be expected from a particular project. What does this mean? Well, over the years, we figured out that there are three distinct outcomes for Business Design project:
Creating project results: Here, we don't compromise the quality of project execution and what we can expect in terms of output and outcome for the business sponsor. We tailor everything towards performance and the sponsor can expect a (partly) validated business model that helps him make clear fact-based investment decisions.

Enabling people: For many projects, the overarching theme is not only to create project output, but to enable business sponsors, team members and other stakeholders to understand the magic of Business Design, what behaviour is expected and how all these tools and methods really work.

Stress-testing the system: And finally, running a Business Design project is a wonderful tool to learn about a current innovation culture in an organisational system (= company), its barriers, holy cows, and strengths, in the most realistic and authentic way we can think of. We learn so much about a company's true willingness and capacity to innovate, which helps prepare an innovation management system that really works. 
And most importantly: Emphasise one of these outcomes at a time. You can't run a sprint to enable people and, at the same time, find the multimillion-dollar business model.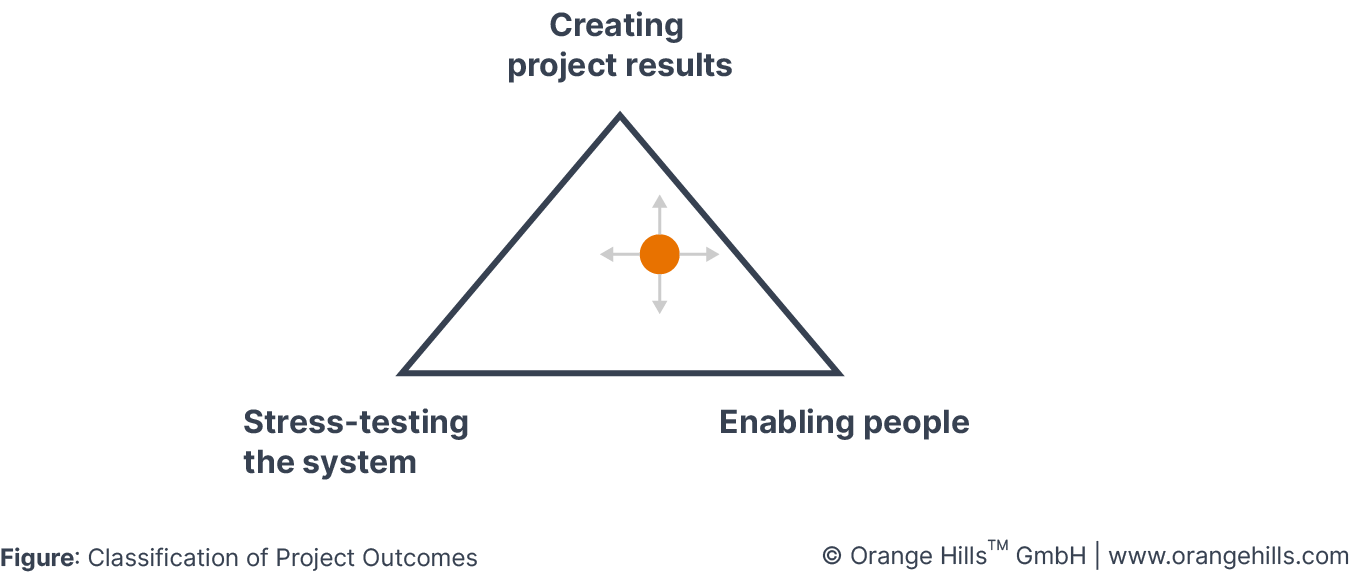 Well, in 9 out of 10 cases, the answer from companies regarding this classification is clear: Project output, output, output. Nothing else. Yes, we know. However, in 9 out of 10 cases, this answer is wrong for many reasons. Pure output-driven Business Design projects require a well-designed innovation management system + culture already in order to succeed. If this is not in place, we always start with 2. and/or 3. and align the expectation with everyone involved. There is no shortcut we have found so far. This is not a black and white discussion, but always focus on ONE of the corners of the triangle at a time. This allows you to kick-start the project and to meet the milestones agreed upon with the internal sponsor. The Project Charter can be easily defined in the Project Workspace. However, we sometimes rely on Excel or Powerpoint if this helps us share the information among stakeholders.
3. Key Activities
The following activities represent the core of the Setup phase:
Gain internal sponsor support: As every Business Design project requires legitimacy and resources, an internal Sponsor must be identified and convinced about the project. Ask your direct superior to suggest suitable sponsors with the right standing within the company and an undoubted interest in your project.

Define project focus: Gaining a clear idea about the objective of the project is essential to ensure that the outcome is valuable for the company and helps to achieve the company's goals. Use the Project Charter to discuss the project with your internal sponsor. Pinpoint the innovation focus, agree on the project milestones and, most importantly, challenge the sponsor whether he / she is really serious about the project.

Build diversified team: A diverse and highly motivated team is needed to ensure a holistic view on your project focus. Thus, establishing the right mix of team members with different backgrounds and seniority levels is essential. Ask the internal sponsor for advice about the team constellation and make sure that the team members have the right expertise and can dedicate enough time over the next couple of weeks.
Make sure you schedule "get-to-know" calls with the team manager and every member of the project team (= team expert) before you kick off the project. Have look at our introduction to Business Design. You may find it helpful four your first client meetings or "get-to-know calls".
4. Formats
5. Tools & Materials
6. Participants
7. Q & A
PS: You see the Q&A list is quite long for this phase. There are usually many open questions that we need to address to not derail a project team right from the start. A good setup is (almost) everything!