Tools for Guidance
Business Design offers a wide range of guiding tools ranging from visualising a business model or business case, fleshing out a customer journey to building an eco-system with all relevant stakeholders.
A guiding tool usually follows one of the following representation types:
Structural 

Temporal

Relational

The Business Model template, for instance, is a structural representation. The focus lies on elements that form a structure to explain what a business model is. A service blueprint or customer journey that outlines how customers interact with front-stage staff is a temporal representation. It always features a timeline. Last but not least, a Business Eco-System illustrating how different stakeholders interact with each other is referred to as a relational representation. Here, the relationships and exchange between "actors" are the predominant perspective. Don't mix these types in a single tool. It will be confusing!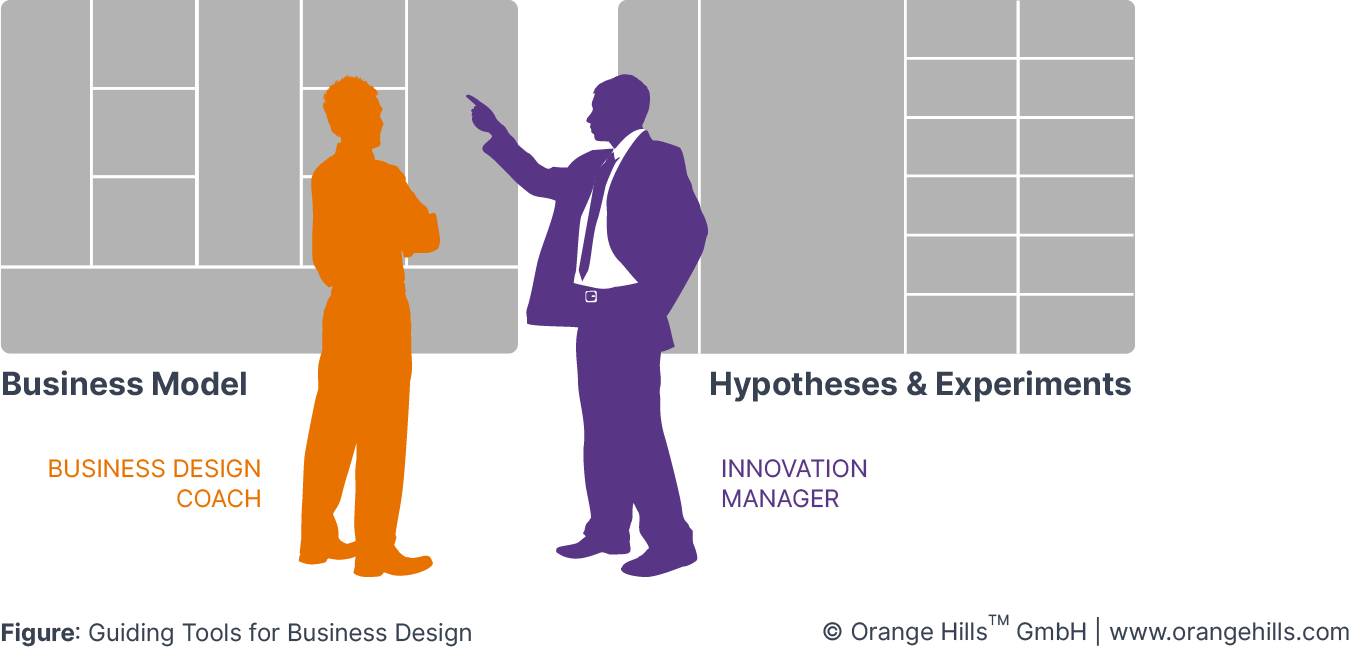 We frequently use the following Tools for Guidance in Business Design projects:
| | |
| --- | --- |
| Tool | Comment |
| | The Project Charter is always the starting point of a Business Design project and describes the entrepreneurial challenge of the project's sponsor and the basic setup of the project execution. |
| | Discover Cards can be used to define the activities for each discover area in detail and assign team members who are responsible for the execution.  |
| | The Insights Matrix is a simple tool to help you structure the results from the Discover Phase.  |
| | The Business Model template has been designed to visualise the essential ingredients of a business model as a future business scenario on one page. |
| | A Business Eco-System is a network of actors that are involved in the delivery of a specific business, product, or service through both competition and cooperation.  |
| | The Financial Sanity Check template helps you structure the discussions around billable units and operational expenses to shed light into the jungle of financial numbers and KPIs. |
| | The Service Blueprint template is a very simple but powerful way to visualise the intangible nature of a service process.  |
| | The Target Groups template gives you guidance in how to cluster customers into groups based on behavioural attributes. |
| | The Competitive Landscape template gives you guidance in how to segment competitors based on competing factors. |
| | The Video Stage gives project teams a handy tool that allows them to translate the DNA of a newly created business model into a short, simple and visual story. |
| | The Hypotheses & Experiments template helps you reveal critical questions and hypotheses inherent in your new business model, product, service or software. |
| | The Lean Offerings template gives you guidance on deciding which of the minimum set of features should be part of your first offerings. |
| | The Action Plan template is a very simple but effective way to organise your execution in order to implement your business model / lean offerings and run your experiments in short cycles.  |
| | The Development Board is a tool that is used to manage agile development of a prototype or a lean offering / MVP.  |
| | A Moderation Wall structures physical workshops and guides the project team through the workshop day(s). |
| | A Decide Wall aims to visualise the results of a Business Design sprint to be presented at the D-Day. |