Discover Phase

1. Purpose
At the very beginning of a Business Design project, the team members will leave the familiar world of their daily business to enter what is still unknown territory. They need to become expert in this new territory and hunt for both confirming and surprising insights we may use for the upcoming Design Phase. Thus, the "space" of the project focus needs to be discovered. Each team member familiarises himself or herself in virtual teamwork with one or more areas of the innovation space. We propose eight discover ares such as
Today's business model 

Practices & processes

Customers & users

Competitive landscape

Market structure & dynamics

Data & resources

Technological capabilities

Rules & regulations
This explorative work is usually prepared in the Kick-off Workshop. This phase usually requires that members of the project team leave their desks and visit experts, customers and other important stakeholders (#GOOTFB). Thus, the magic happens not in the Kick-off Workshop but right after when team members start exploring the outside world. There is a vast variety of options to shed light into the innovation space in the Discover phase. By combining different sources to discover the innovation space from different angles (triangulation) chances for revealing "golden nuggets" are high.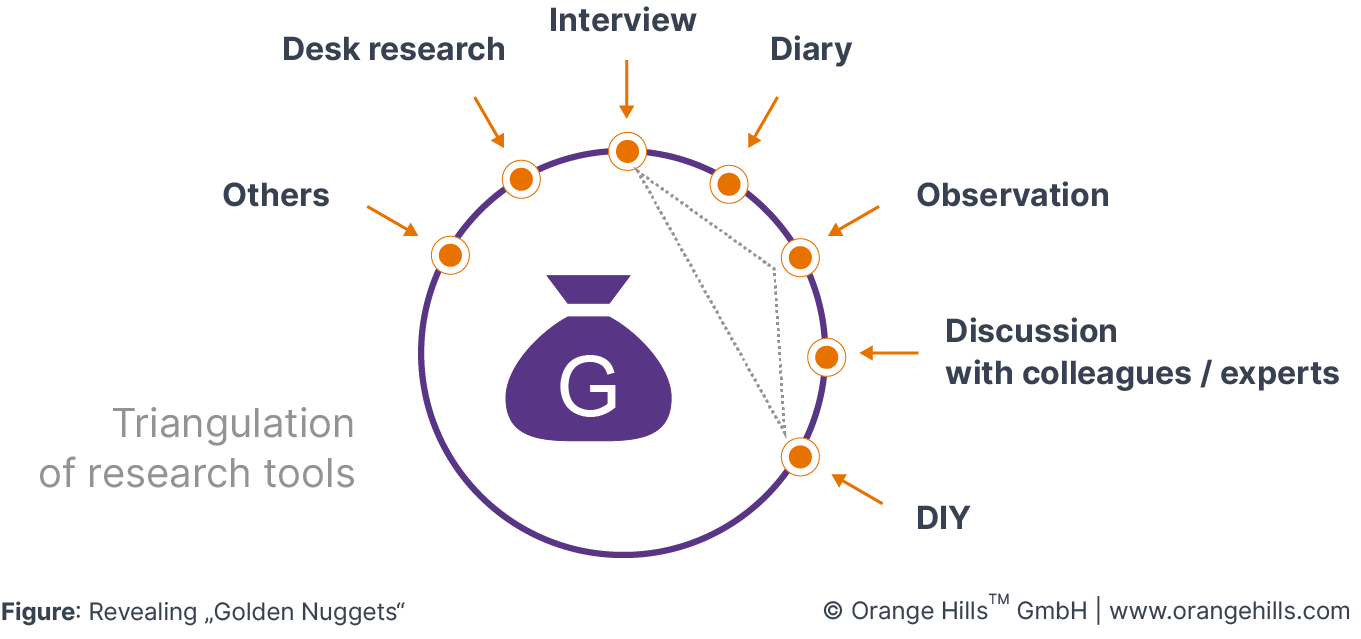 Weekly Status Calls help to keep track of the team's activities. The output of the Discover phase is an accumulation of a vast collection of knowledge and insights and that the team members become experts in the areas they discovered. This knowledge and insights will be leveraged intensively in the subsequent phase to design business ideas that matter. Without a proper Discover phase it is almost impossible to come up with valuable ideas in later phases.
Be aware that for some people interacting with customers, asking questions and active listening are activities beyond their comfort zone. Prepare them carefully and push them gently (see the exercise here).
2. Duration
2,5 weeks
(in some cases we extend the Discover Phase to 4 weeks if in-depth customer and/or technology research is necessary)
3. Key Activities
The following activities represent the core of the Discover phase and will be started in the Kick-off Workshop:
Define discovery space: To avoid an information overload and too many uncertainties surrounding your project, you need to prioritise which areas to delve into. Use the Discover Cards to define which aspects you want to scrutinize in eight proposed discovery directions and gain a better understanding of your project.

Execute discovery: An essential step in the innovation process is to become familiar with your discovery space. This usually requires some individual effort from every team member to learn as much as possible. Ensure that each team member allocates enough time to engage in research and to leverage his / her network for interviews and observations. Please find examples for discovery execution here: Discovering Customers, Discovering Markets, Discovering Competitors.

Document and visualise insights: Individually, provide an overview about which sources you used to acquire data, information and insights. Summarise your key learning in a visual way that can be presented in the upcoming Design Phase.
Organise a "team event" right at the beginning of the Discover phase where the team works together outside of a traditional workshop setting e.g.
Unboxing products of competitors

Visit of a trade fair

Visit of production line

Visit a customer's location
4. Formats
5. Participants
6. Tools & Materials
7. Q & A