Business Design Academy
Welcome to the Business Design Academy. We are 100% committed to help you become a professional Business Design coach, facilitating successful projects with Business Design. If you are new to Business Design and not sure, whether Business Design is what you are looking for, you may find useful information in our Knowledge Base. If you are already into the Business Design basics and want to improve your coaching skills, the Business Design Academy is the right place for you.
We currently offer the following programs: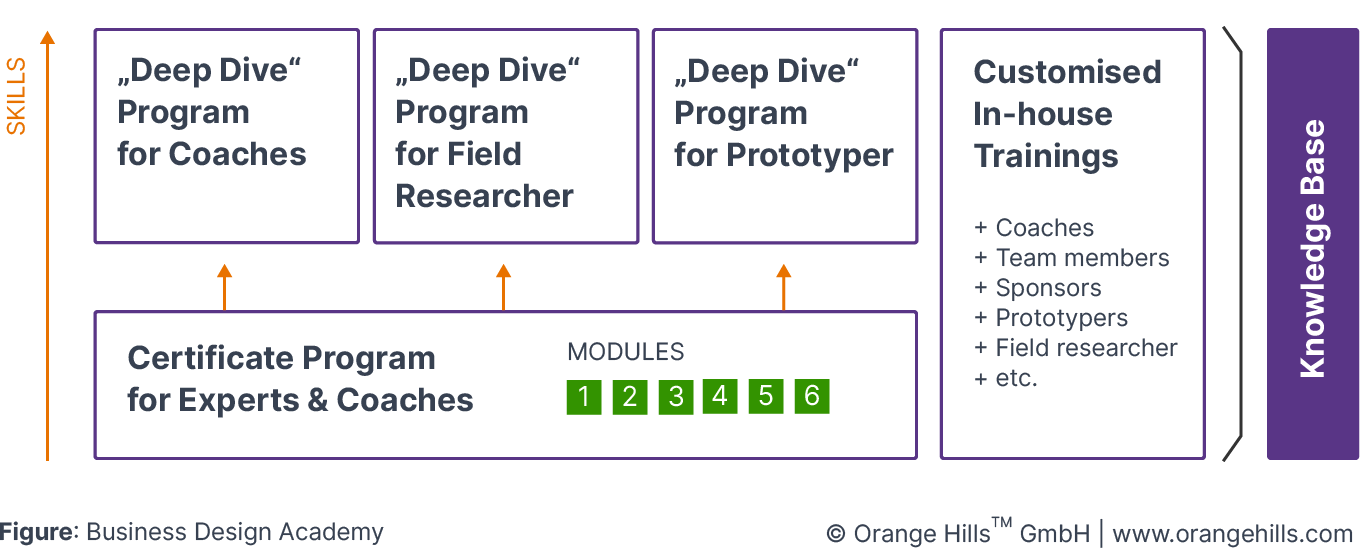 Certificate Program for Experts and Coaches
Our "Certificate Program Business Design & Innovation" is a special training format for management consultants and coaches as well as innovation managers of corporates, who aim to apply Business Design in real-life projects or want to roll out Business Design as part of an innovation management system.  After the successful completion of the program, participants officially receive the certificate issued by Orange Hills GmbH and TU München. The program is offered twice (intakes in spring and autumn) a year and held in German.
Click here for more information...
"Deep Dive" Program for Coaches
Since the "Certificate Program for Coaches"  is designed for people who are starting off with Business Design, our "Deep Dive" Program is specifically tailored around challenges and questions experienced Business Design coaches have. You should have completed at least 2-3x Business Design projects to benefit most from this program. The exchange among the participants is proactively supported - even after the program. The program starts in autumn every year and is held in German.
Click here for more information...
Customised In-house Trainings
We also offer highly customised training sessions for corporates specifically tailored to the trainings needs / desired skills and learning goals of an organisation. We are able to address many different target groups including:
Coaches

Team members

Sponsors / management

Prototypers / software developers

Field researchers
Learning goals can be designed around...
Listening to customers and users

Working in cross-disciplinary high-performance teams

Thinking in business models

Thinking in entrepreneurial opportunities

Facts-based decision-making

Virtual teamwork

Visualising ideas and concepts

Breaking up the power structure of an organisation

etc.
We always listen first before we design and roll out your program. Pilot run(s) are always an essential ingredient of every customised training program:
Typical in-house trainings are:
Business Design foundations for everyone (2 days with multiple intakes)

Management trainings for potential sponsors (0,5 days)

"Business Design meets engineering mindset" (2 days)

Software / IoT prototyping trainings for developers (2 days)

Field research deep dive training (2 day)