Before and After Business Design
We mentioned before that Business Design is an essential part of a modern innovation management system. But there is more needed to get innovation to the market. The following figure shows the high-level phases of every innovation management system:


Research & Development
Before you kick off a project based on the Business Design process, there are usually other activities that can be summarized as Research & Development. In this phase, the main purpose is to explore and analyze interesting starting points for new business models, products, services or software applications.
Good sources of inspiration to get these starting points may include:
Company's vision / "Picture of the Future"

Strategic goals

Customer insights (e.g. from service center)

Technological capabilities (e.g. new sensor)

Political or social trends (e.g. sharing economy)

Data and resources (e.g. own customer data)

IP and patents (e.g. own inventions of R&D lab)

Competition (e.g. great new service)
Dedicated research groups collect data, information and insights on a regular basis and initiate ideation workshops with the goal to be curious, create and prioritize ideas. Sometimes, a dedicated scoping phase / project is required to consolidate research results and enhance them with first business insights derived from customer interviews, desk research and expert discussions on meaningful questions in order to better prioritize and prepare a Business Design project. This scoping phase / project is optional and only needed when developed ideas are just too vague and fuzzy and not ready to be fed into a Business Design project. Keep this option in mind!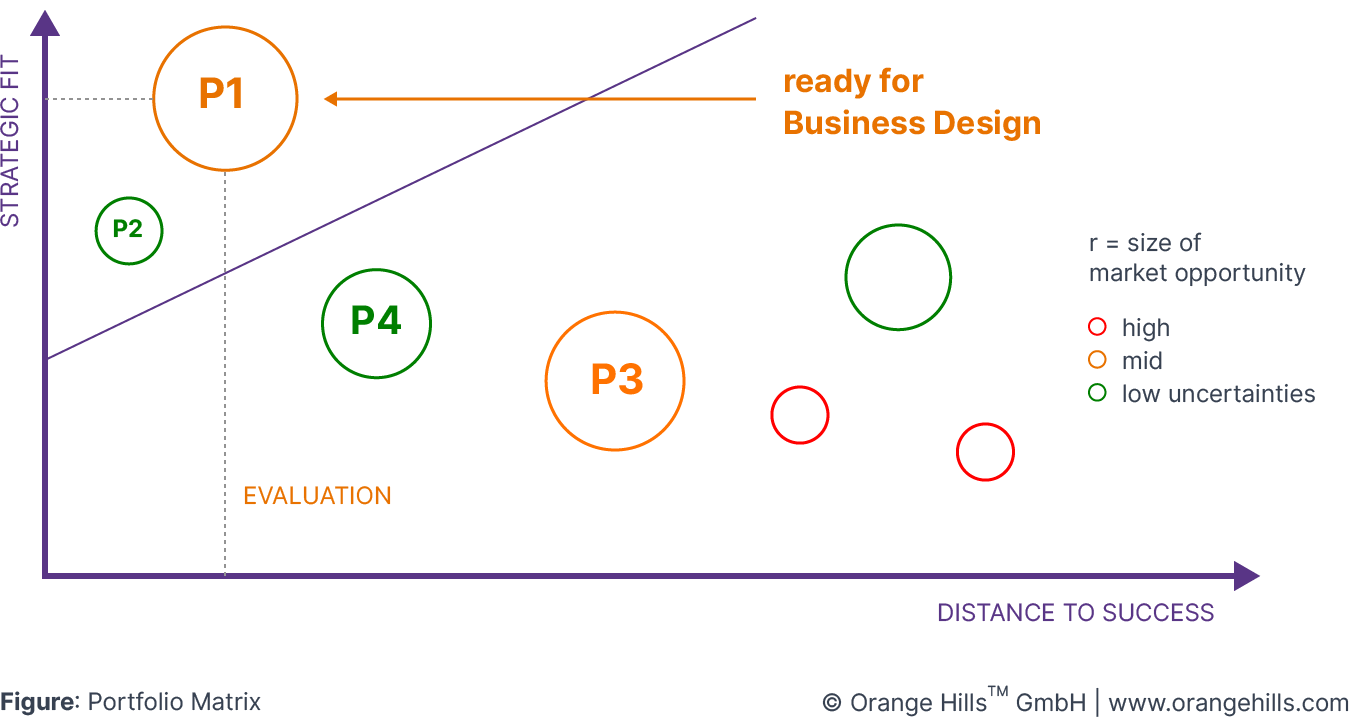 The ideas will be prioritized based on dimensions such as "strategic fit" and "distance to success" (see portfolio matrix) and translated into "Project Charters". The "Project Charters" are the starting point for every Business Design project.
The assessment of these Project Charters can be:
Strategic fit

Distance to success

Size of business opportunity

Accessibility of data and resources

Level of uncertainties

Go-to-Market
After a successful completion of a Business Design project with 1-X iterations, the sponsor of a project may have decided to launch a new business model, product, service or software application on the market. If you have done a good job so far, the biggest uncertainties should have been eliminated. From now on, it is about 100% execution - as efficient as possible. As a preparation, there are some more steps needed to turn the results of a Business Design project into something you can sell with existing or newly established structures.
Since a Go-to-Market process depends heavily on the type of innovation, we just list here very typical activities: 
Involvement of business line(s) or setup of new division

Hand-over to Product Development Process (PDP)

Setup of final production / engineering / implementation

Quality management

Preparation of marketing materials

Preparation of sales channels / regions

Training of sales staff etc.